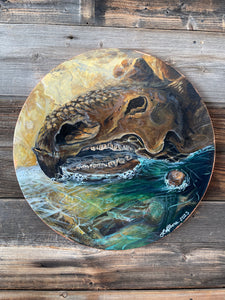 The Grande Prairie area is home to one of the best bone bed locations for Pachyrhinosaurus lakusti. This triceratops looking dinosaur was an impressive herbivore that cruised the Great Plains back in the Cretaceous period. 
Created with reference material from the Philip J. Currie museum out of Wembley, Alberta. This piece included a Hydrosaur spinal column, crinoid limpet fossil, forearm bones and some cervical vertebrae pieces from the P. Lakusti collection.
Acrylic and Copper Leaf on 50cm Round Canvas
Now home to a collector in Kelowna, BC.